Thermal Power Plant Pollution
Thermal power plants gives out lot of gas which are harmful to our environment. Thermal power plant is used to converts heat energy into electric power. Chief justice of India SA Bobde said on Friday (29.2.20), he wanted all the thermal plants in the country shut to prevent environmental pollution. Bobde was dealing with a case from Uttarakhand where many projects had come under the court scanner along with Justices BR Gavai and Surya Kant. Thermal pollution is the degradation of local environment, in particular the localized waterways, were changed by discharge of waste water from power plant.
Effect on Atmosphere
Thermal power plant produce lot of greenhouse gases, which are by-products of burning fossil fuels. Carbon dioxide is one of the main gas that is released from burning of fossil fuels and it is the main reason for global warming. Thermal power plant is one of the reason to increase the carbon dioxide level throughout the world. Sulfur dioxide is another gas released from power plants. It is not a greenhouse gas, it gave indirect effects to atmosphere because it affect the scattering of sunlight. So it is considered as indirect greenhouse gas. This will return to earth as acid rain and will impact on ecosystem. The level of sulfur dioxide released from thermal power plants depend on the amount of sulfur dioxide released from thermal power plants depends on the amount of sulfur in the coal. The coal used in thermal power plant has an average between 0.1 and 3.5% of sulfur and the thermal power plants are the largest emitters of sulfur dioxide worldwide.
Nitrogen oxide are another gases that released in thermal power plants. It is one of the largest contributor to global nitrogen oxide levels. Both nitrous oxide and nitrogen oxides are not greenhouse gases, but it has an indirect effect on the atmosphere. Nitrogen oxide will cause respiratory issues and they combine with other atmospheric gases and moisture to form acid rain and smog. The other big pollutant to atmosphere is ash in the thermal Plants. Coal is used in thermal power generation which produce fine particles of ash will cause environmental problem. Ash will spread in the atmosphere will contains ash particles like silica, alumina, iron oxide, calcium, magnesium, lead, arsenic, cobalt and copper. Ash contain particulate matter known as PM2.5, are the particles less in diameter.
Effect on Local Environment
Thermal pollution is one the biggest problem in local environment. When the water in power plant is no longer usable, it gets discharged into local waterway. Wastewater generally have high temperature than local natural water, it can increase the temperature of water and it also have negative impact on local ecosystem. The released ash particles contain metal ions which can escape into local ecosystem and it also contain radioactive nuclides. Radioactive nuclides that emit radiation as they undergo radioactive decay through emission of alpha, beta or gamma particles. They affect the local environment from waterways, soil, vegetation and other living organisms.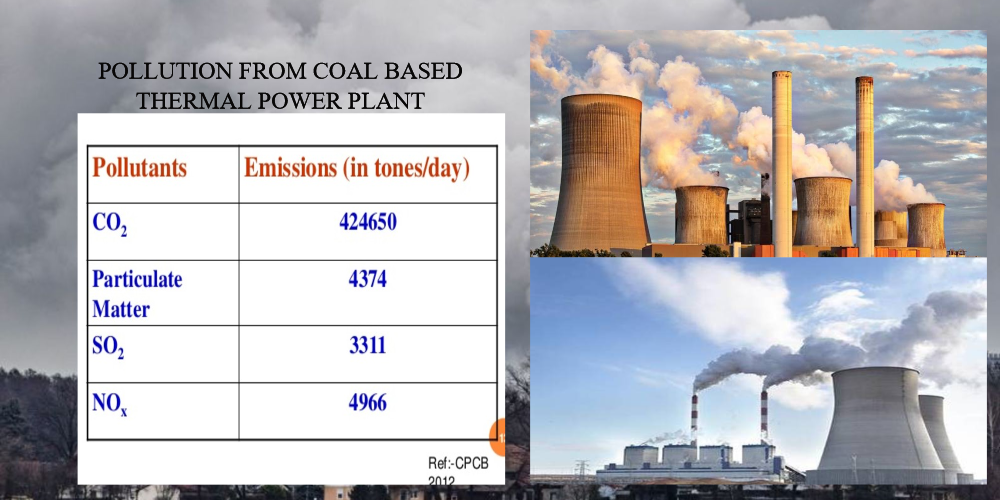 Wildfire and climatic change
Wildfire plays a major role in the forest ecosystem. But wild fire had many environmental related benefits like they can cut back the sick or dead trees and let the trees to re-grow for later. This proves that fire not destroy but also give re-growth to the tress in the forest. Wildfires are unpredictable and unplanned fires occur in the forest. Wildfires are burn at a temperature more than 2,000 degrees Fahrenheit. This temperature is twice hot as the surface of Venus. It will also spread faster at the ground, twice the human can run. There must be three things present, like oxygen, heat and fuel, a fire will start. This can be called as a fire triangle by foresters. If there is any plenty of these elements, the fire will spread towards the direction. To control the fire, we should limit any one of these in the three elements.
Effects of Wildfires
Plant purifies the atmospheric air by taking carbon dioxides and impurity air and release oxygen. When plant life is extinguished by fires, the quality of air that we breathe will dismiss and greenhouse gas will increase in the atmosphere will lead to change in climate and global warming. The clouds of huge smoke by wildfires will lead to air pollution. If the greenhouse gas will increase it will lead to global warming and the smoke and dust which destroy will cause air pollution.
We all know that forest soils are loaded with nutrients arise from decaying of remaining forest. There are some numerous natural features in the forest soil. While the burning of trees and leaves, the soil expose to make it readily unsafe to soil erosion. The entire value of the soil destroys due to high temperature caused by wildfires.
 In dry tropical forest the commonly happen major issue was forest fire. During the forest fire, thousands of acres of trees are removed. Every year, during forest fire are shows that the quality of forest features like soil fertility, biodiversity and ecosystem will reduced.
The smoke from wildfires are mostly water vapour, also it contains gases like carbon monoxide, carbon dioxide and nitrogen oxide and other particulate matter which affect human health.
Causes of Wildfire
90% of wildfires may cause by humans. A worldwide study of smoking related fire by epidemiologists says that the smoking is the cause of fire. The effect and dust also cause breathing trouble and will lead to respiratory disorders. Due to climatic change, since 2000, an average of 72,400 wildfires had burned an average of 7.0 million acres.
 In the earth's crusts is usually discharges hot magma which releases lava during volcanic eruption. Magma is a molten rock found below the earth surface.
Wildfires have both immediate and long-term effects on air quality. Large amount of smoke released in the atmosphere during wildfire. The fire during air pollution may travel to a greater distance and it may affect the human health. It makes difficult to breathe when we are inhaling the polluted air.
Wildfire will affect local atmospheric pollution, and release carbon in the form of carbon dioxide. The ash and smoke generated during wildfires will pollute the atmosphere and affect the human health issue while people breathe the polluted gas. The health issues like breathing problems, eye irritation and respiratory disease are the common heath issue while people live near the fire areas.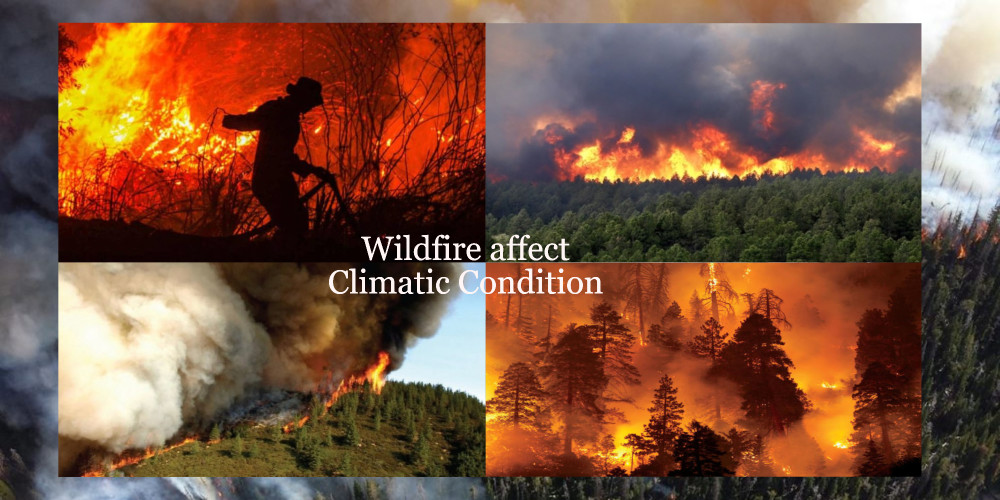 Effects on dust particles during construction works
A report by urban emission published in Atmospheric Pollution Research proven, transportation is the main cause for emission in Bangalore.23% of air pollution was caused due to the on-road and construction dust. But most of the people accept it is our part of life in our daily life. Bangalore is one of the fast growing cities between 2003 and 2017, added more than 10,000km of road to increase the vehicle population and reduce the traffic on roads. Due to the improve of urban planning and public transport options, emissions of the dust particles will increased by atleast 50% in 2030.
Due to increasing construction activities, pulmonologists says that respiratory cases will increase over the years. During the construction works a lot of chemicals will release. Dr. Sandeep H.S, a consultant pulmonologist at Bangalore Institute of Respiratory Disease and Sleep Disorders (BIRDS) says that cement and sand dust will also lead to respiratory disease. Many chemicals like asbestos, silica, formaldehyde and many other carcinogenic chemicals. Carcinogenic chemicals will lead to cancer. An inflammatory change in the lungs is caused due to the particles which is less than 2.5mm.The explosion of silicon at sandblast will cause breathing difficulties to the human beings.
People, who continuing for long time exposure will lead to higher risk of pulmonary fibrosis, allergic conjunctivitis, cough and other respiratory system issue. Studies says that kids upto six years, the development of the lungs to kids in India and US was same but the ages between 6 and 12 there was a decline in the growth of lungs. One of the reasons for this was pollution explosion.
During site construction the owners must take dust prevention measures to minimizing the impact on the dust particles, made mandatory by the government. Construction should done scientific measures to minimize the loss of dust particles in the air. By watering the area in the site will decrease spreading of dust particles.
The study of World Health Organization (WHO) said that out of 10, 9 people will now breathe only polluted air, which also kills seven million people every year. Due to pollution, one-third of the people death because of stroke, lung cancer and heart disease.