Apzem Laser Fume Extractor are designed to capture hazardous fumes coming out while using laser machines in marking, coding, Engraving, cutting & Welding. Laser fume extraction systems are portable, cost efficient, easy to integrate and reliable. All our Laser fume extractors are designed to work with all laser manufacturers machines and easily fits into any environment. All Filtration systems consist of pre-filters, Fine Filters, HEPA filters (optional) and Carbon filters that remove harmful fumes and return purified air to the workplace. All our fume Extractors are fully customizable to suit your needs. Apzem provides a complete solution from designing hood, ducts connecting single machine or multiple machines and a full fledge centralized fume extraction system too. We are. happy to assist you in selecting fume extraction solution for your laser application
For enquiries or to know more feel free to contact us @ 9789066648 / 044-26580258 or email to sales@apzem.com. We are very happy to work with you.
Products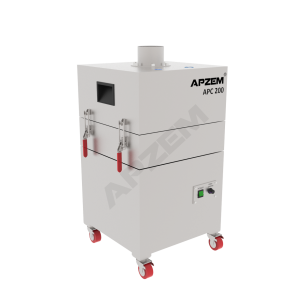 Apzem APC200 Laser Fume Extractors are specially designed high tech extractors catering the needs of metal and non metal Laser marking, Laser Engraving, cutting & welding applications in pharmaceuticals and Clean room environment.
[su_button url="#" target="blank" background="#8dc63f" size="7" radius="0" icon="icon: file-pdf-o"]Product Catalogue[/su_button]
[su_button url="https://www.apzem.in/index.php/contact/" target="blank" background="#8dc63f" size="7" radius="0" icon="icon: arrow"] Send Enquiry [/su_button]