Apzem VOC Scrubbing System for VOCs control are environmental friendly scrubber that works on the principle of anaerobic digestion of organic VOCs by bacteria. Some VOCs creates bad odors and organic nature and generated in industrial process and in wastewater treatment plants and are readily digested by bacteria grown in a constrained environment with proper supply of enzymes and nutrients.
Apzem had a strong team of consultants and engineers having deep knowledge in design and commissioning of VOC scrubbers and other industrial air pollution control equipments , hoods, ducting. And are looking forward to provide you end to end , complete turnkey solutions to your odour & Air pollution control needs.
VOC Scrubber are employed in wide range of industrial applications such as  Wastewater treatment Adhesives, aluminum fabrication, Asphalt plants, Coating operations, Chemical plants, Drying ovens, Food processing, Furniture manufacture, Foundries, Oil and petrochemical, Wood products  manufacturing,  Painting operations, Plastics, Polymers,  Printing, Pulp and paper manufacture,  Tire operations, Resins, Rubber products, Pharmaceuticals,  Sealant, Smoke houses, Textile finishing etc
Products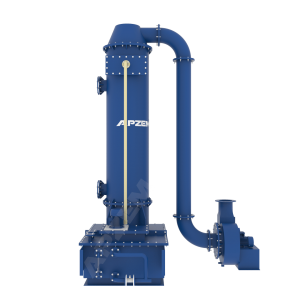 catalytic scrubber
Catalytic scrubber is important to remove toxic gases and make the pollutants into simple non-hazardous components. Apzem developed a catalytic dry scrubber for this purpose. The catalytic scrubber works on principle of chemisorption process. Chemisorption is an adsorption process which involves chemical reaction between the toxic pollutants and chemical present on the surface of adsorbents. This type of scrubber consist of catalyst which adsorbs the gaseous pollutants and reacts with them to make into simple components.
[su_button url="#" target="blank" background="#8dc63f" size="7" radius="0" icon="icon: file-pdf-o"]Product Catalogue[/su_button]