Apzem Packed bed Scrubber are custom designed to capture sub micron particulate matter, chemical fumes, odors, and other water / chemically soluble fumes and Vapors generated in industrial process. All wet scrubber works on the principle of absorption technology, where the pollutants is made in contact with scrubbing liquid. The pollutants gets absorbed by scrubbing liquid either physical or by chemical means. The capturing efficiency of the scrubber can be increased by increasing the time of contact of flue gas with scrubbing liquid.
In packed bed scrubber we use rings, saddles etc so called packings to increase scrubbing efficiency. We supply counter flow (vertical scrubber ) and cross flow type (Horizontal scrubber) and multi scrubber arrangements based on site constraints and efficiency required. The sizing of scrubber, selection of scrubber solution, Material and inner lining is critical in designing wet scrubber for a particular application.
Products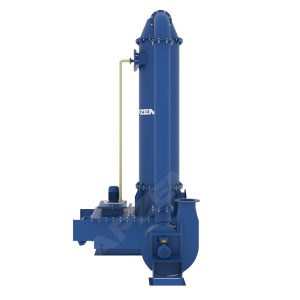 sulfuric acid scrubber
       Many chemical industries generates and exhausts sulphur based substances such as sulphuric acids or sulphur dioxide from various processes. Sulfuric acid fumes are very corrosive and it is strongly irritant to the respiratory if is directly inhaled. Apzem have experienced in controlling and neutralizing the sulphuric acid fume using a packed bed column with caustic recirculation.
[su_button url="#" target="blank" background="#8dc63f" size="7" radius="0" icon="icon: file-pdf-o"]Product Catalogue[/su_button]