Fumes are generated in various industry process like Laser cutting, Laser Marking, Plasma cutting, Welding, Chemical Laboratory, and also in chemical storage applications. These fumes hazardous to human health and should be effectively removed, Filtered and then passed to atmosphere. Fume Extractors or Fume Extraction System is a device or a set of arrangements to collect fumes from various processes via suction hood, transport it to filtering unit via ducts, and is filtered there and then passed to atmosphere. These fumes should be effectively captured and filtered before passing it to atmosphere as per Pollution Control Board norms, Occupational Safety norms to improve health, safety and productivity of employees.
Apzem had been custom designing, manufacturing , installation and commissioning of Fume extractors and Fume Extraction system together with hood, ducts, blowers, Filter unit and chimney for its customers from welding, laser marking, soldering to chemical storage, research Labs. Choose any of our Fume Extractors type below or call us @ +91-044-26580258 or send us enquiry to enquiry@apzem.com
Products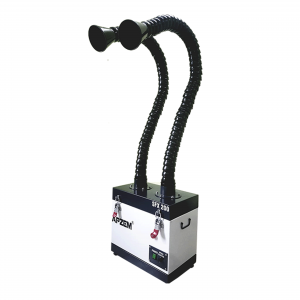 Apzem soldering fume extractor for the fumes control from the electronic industries. It is compact and highly productive. It has to quiet operation, convenient mobility, and high efficiency. It is specially made for soldering purpose. Apzem soldering fume extractor that absorbs solder smoke absorber in the air by passing them through a multi type filtration media.
Apzem's Dual Arm Solder Fume Extractor is Highly portable and light weight. It requires very Low maintenance operation and No tools are required to change filters. Soldering Fume Absorber comes with Sturdy construction ( Material of Construction : Plain carbon steel ) and ESD powder coated finish, Compact design, Visual Filter Choking Alarm Indication and High Efficient Dual inlet gives dual point capturing with Flow Control.
[su_button url="https://www.apzem.in/wp-content/uploads/2019/10/SFX200.pdf" target="blank" background="#8dc63f" size="7" radius="0" icon="icon: file-pdf-o"]Product Catalogue[/su_button]
[su_button url="https://www.apzem.in/index.php/contact/" target="blank" background="#8dc63f" size="7" radius="0" icon="icon: file-pdf-o"] Send Enquiry [/su_button]