Fumes are generated in various industry process like Laser cutting, Laser Marking, Plasma cutting, Welding, Chemical Laboratory, and also in chemical storage applications. These fumes hazardous to human health and should be effectively removed, Filtered and then passed to atmosphere. Fume Extractors or Fume Extraction System is a device or a set of arrangements to collect fumes from various processes via suction hood, transport it to filtering unit via ducts, and is filtered there and then passed to atmosphere. These fumes should be effectively captured and filtered before passing it to atmosphere as per Pollution Control Board norms, Occupational Safety norms to improve health, safety and productivity of employees.
Apzem had been custom designing, manufacturing , installation and commissioning of Fume extractors and Fume Extraction system together with hood, ducts, blowers, Filter unit and chimney for its customers from welding, laser marking, soldering to chemical storage, research Labs. Choose any of our Fume Extractors type below or call us @ +91-044-26580258 or send us enquiry to enquiry@apzem.com
Products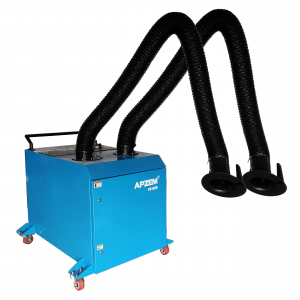 Welding fume or smoke contains harmful elements such as Manganese, Chromium, Nickel, Zinc etc. Continuous Inhaling of welding fumes may cause Weld Fume Fever, Headaches and dizziness, Irritated eyes, nose and throat, Chest pain, Respiratory damage, Difficulty breathing, Lead poisoning, Nervous system damage etc.
Apzem's Portable Welding Fume Extractors are specially designed such that it suits for all types of welding applications such MIG Welding , TIG Welding , Stick Welding , Cleanroom Welding , Stainless Steel Welding as require static as well as movable extraction unit.
[su_button url="https://www.apzem.in/wp-content/uploads/2020/10/PORTABLE-TROLLY-TYPE-WELDING-FUME-EXTRACTOR-v2.pdf" target="blank" background="#8dc63f" size="7" radius="0" icon="icon: file-pdf-o"]Product Catalogue[/su_button]