Buffing / Polishing / Grinding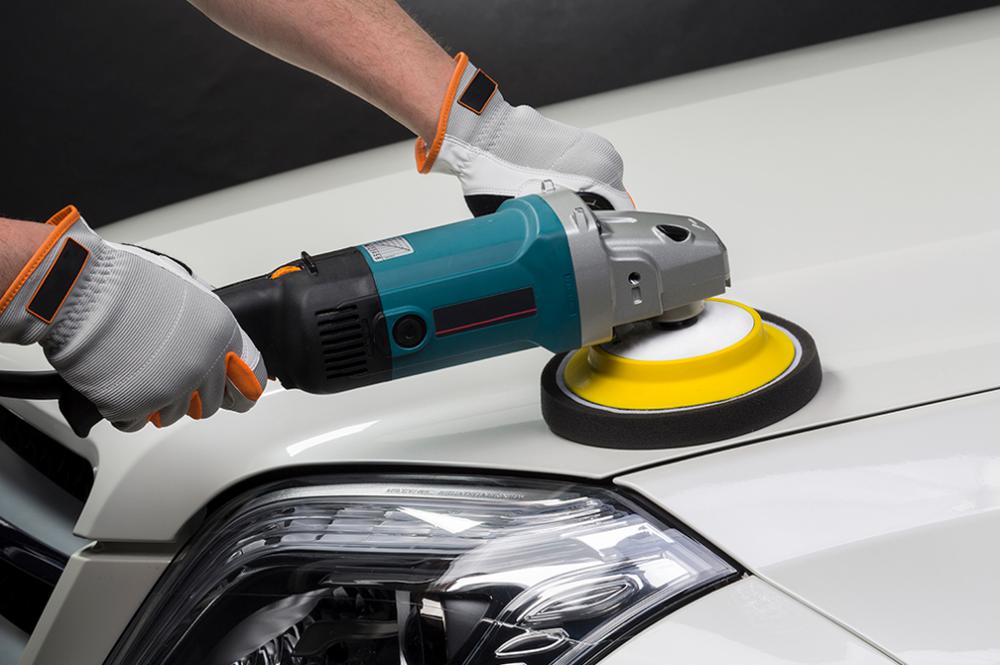 DEBURRING, BELT SANDING & BENCH GRINDING
Any industrial work application that includes grinding and deburring is going to create dust that requires immediate filtration. Whether it is an angle grinder, die grinder or an automated grinding machine, dust and particles will pollute your workplace unless they are captured and filtered at the source.
The dust produced by workplace grinding applications produces a range of health effects, mostly centered in the lungs. A condition known as pneumoconiosis or "dusty lung" affects many workers that don't have access to proper filtration and ventilation. The result is scar tissue build up in the lining of the lungs that contributes to serious, chronic lung problems.
The key is to remove dust and particulate before it reaches the breathing zone of nearby workers. Depending on the nature of the work application, grinding and deburring can create airborne metal, composite, rubber or fiberglass dust that is particularly dangerous to inhale.
We offer filtering and ventilation equipment such as downdraft tables and dust collectors that will capture the dust as you produce it, then filter and remove it from harm's way. All of our dust filtration and ventilation products meet required regulatory guidelines, and our expert team is always ready to provide information and help guide you in the right direction.
DUST REMOVAL SOLUTION - MOBILE DUST COLLECTOR FOR POWDER DUST
Portable Dust Collector
Apzem's Portable Dust Collector suitable for capturing dust at the source. Portable dust collectors are self contained system with fully automatic pulse air cleaning arrangement and industrial grade castor wheel affixed at bottom for maximum portability. As an optional upgrade some of our portable dustcollectors are accompanied with flexible arm with hood and control arrangement Portable dustcollectors will be an economical option when sources generating dusts is not fixed at one location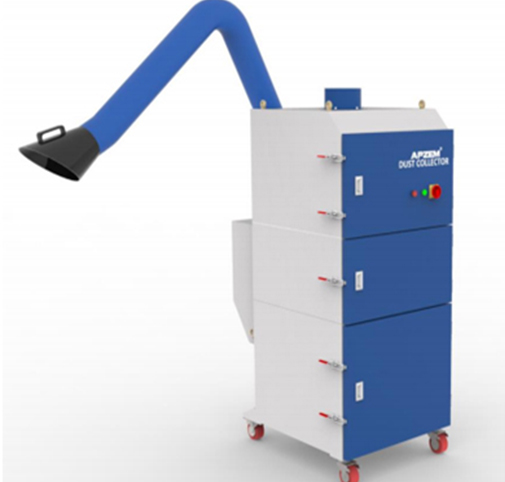 AUTOMATIC PULSE AIR CLEANING ARRANGEMENT
Fully mobile with built-in casters
Cartridge filters are 99% efficient.
12 gauge, powder-coated, steel casing
Easy handling of dust tray.
Filter choking alarm
Self cleaning reverse pulse system
3 meter Flexible arm with capturing Hood
SIFTING DUST REMOVAL SOLUTION - BAGFILTER DUST COLLECTOR
Sifting Dust Removal
Bagfilter or Baghouse dust collector are a giant centralized industrial dust control equipment used for collection and filtration of harmful, nuisance dusts in various industries like Food Industry , cement plants, Fertilizer Industries, Woodworking & Glass manufacturing industries and other Manufacturing Industries.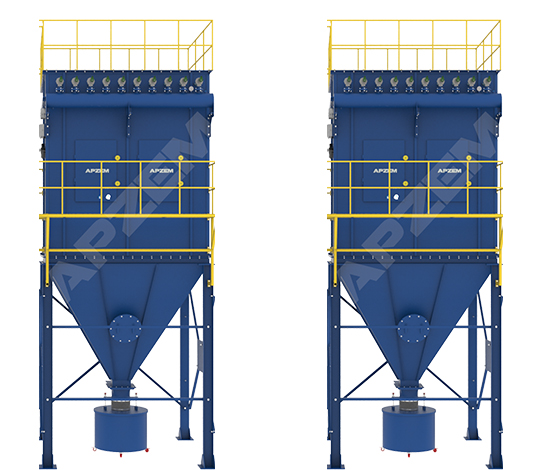 Flow:upto30,000 CFM
Filtration :upto5 microns
MOC:Mild Steel / SS 304 /SS316
Finish: Powder coated / Matt finish
Power option :3 Phase