Products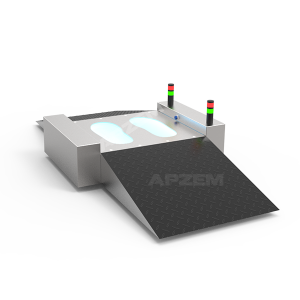 Footwear Sanitizer – Apzem's shoe sanitizer kills up to 99% of exposed microorganisms, such as all dangerous pathogens, on the soles of footwear (including booties/shoe covers) in 5 -10 seconds. It is a perfect solution to help control contamination levels of shoe-borne pathogens. It implements scientifically proven technology that eliminates contamination and infectious organisms with no workflow interruption, additional staff or monetary cost to operate.
[su_button url="https://www.apzem.in/wp-content/uploads/2020/06/Foot-wear-sanitizer.pdf" target="blank" background="#8dc63f" size="7" radius="0" icon="icon: file-pdf-o"]Product Catalogue[/su_button]
UltraCleanUV is a fast, affordable, convenient and effective way to eliminate germs from the almost every corner of the indoor environment even from the places that cannot be reached by manual disinfection measures. It kills harmful Virus, Bacteria and other micro organisms with 99.99% efficiency.
It can take more than two hours to apply a multi-step chemical disinfectant to the surfaces of a narrow places. UltraCleanUV can sanitize that same area in less than 15 minutes
[su_button url="https://www.apzem.in/wp-content/uploads/2020/06/UV-Disinfector-UltraCleanUV.pdf" target="blank" background="#8dc63f" size="7" radius="0" icon="icon: file-pdf-o"]Product Catalogue[/su_button]